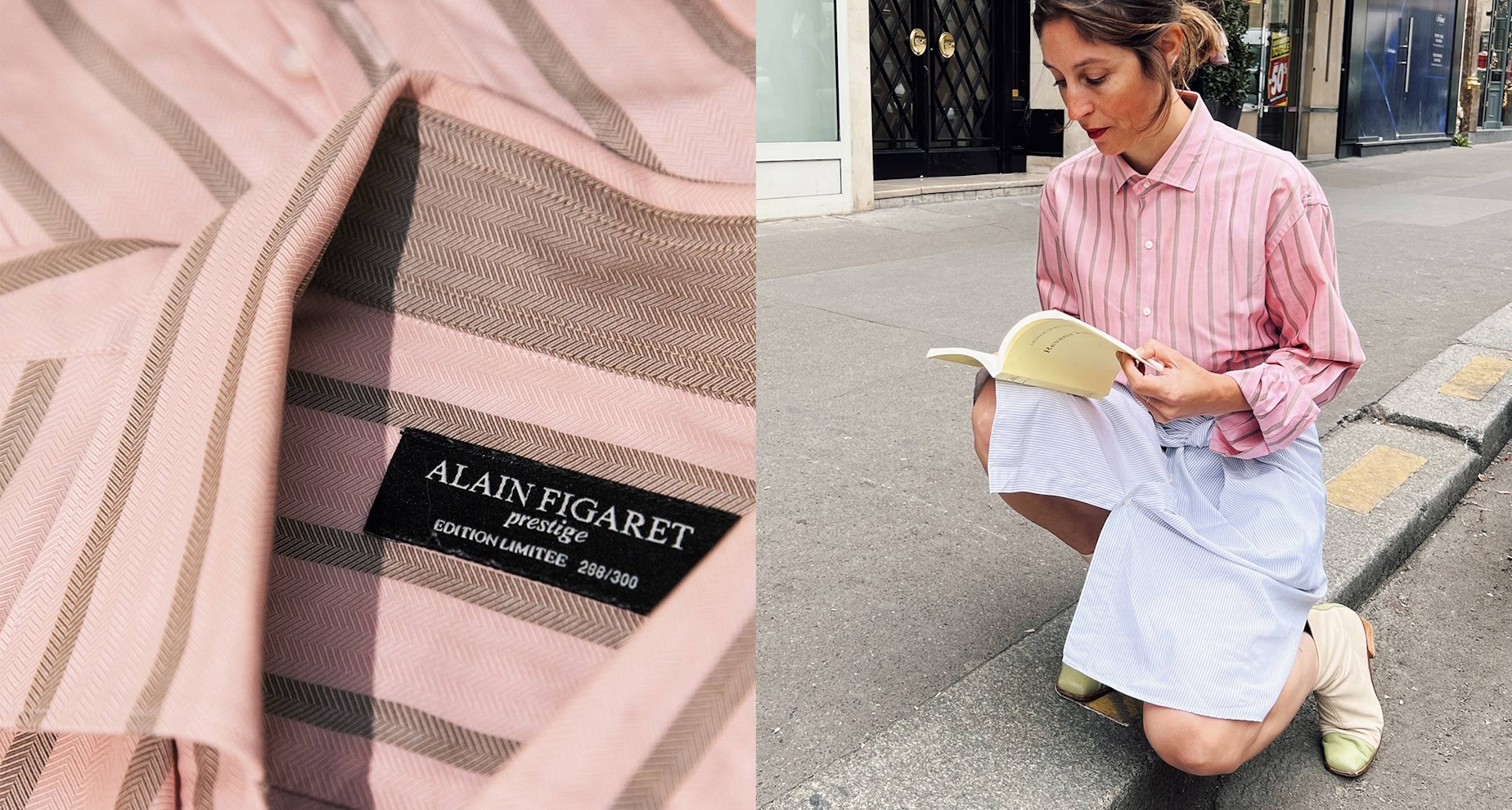 Vintage capsule by Love&Dress
A collaboration that is both desirable and responsible.

OUR SHIRTS HAVE MANY LIVES... AND MANY STORIES ! JULIA COUTURIER, FOUNDER OF LOVE&DRESS, THE ESSENTIAL VINTAGE STORE IN PARIS, HAS FOUND FOR US A SELECTION OF FIGARET SHIRTS.

Come and discover his selection
Thursday, September 29 from 6:30 to 8:30 pm
BOUTIQUE FIGARET,
21 RUE DE LA PAIX, PARIS 2E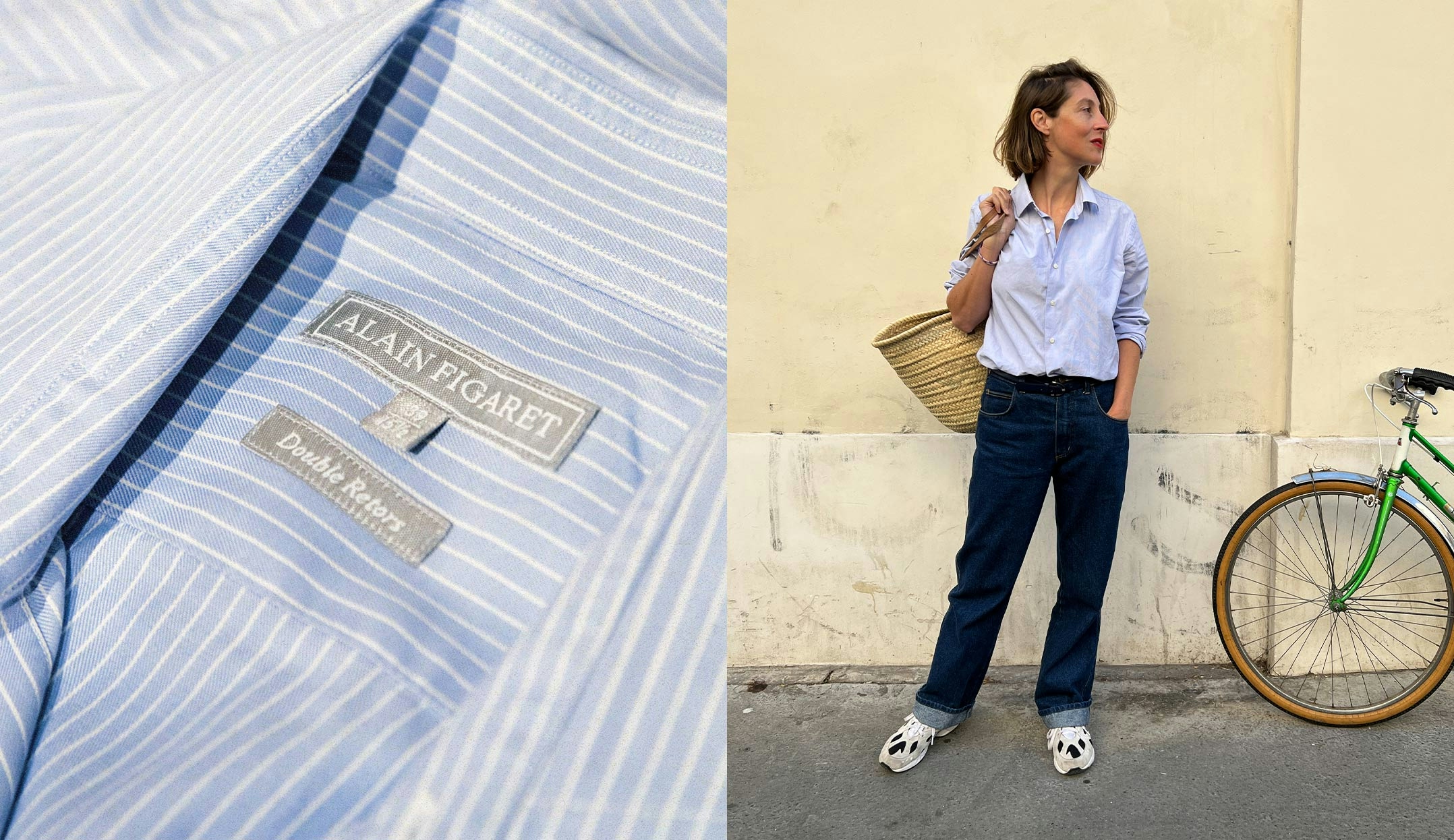 At Figaret, we have been making shirts for over 50 years. We have always had a taste for things that last.

When a timeless piece is created, it's only natural that it is designed to stand the test of time. Shirts forever and for a long time.

When we met Julia Couturier, founder of Love&Dress, whose motto is to hunt for timeless pieces in beautiful natural materials, it is like an evidence. The style of course, but also the common love of a quality garment and still current.

JULIA, A TRUE VINTAGE EXPERT, HAS COME UP WITH ULTRA-FASHIONABLE CREATIVE SILHOUETTES TO HIGHLIGHT OUR QUALITY SHIRTS.
Tell us the story of love&dress, vintage shop since 2017?
The story was born from an awareness, from a sense of urgency. The need to get out of the ruthless world of fast fashion by designing a place that reflects our image. A space where our inspirations, our values, our commitments, our tastes, all expressed through our love of clothes, those that make their way between the second hand, the mass market and luxury.
I have been hunting clothes since I was 11 years old and I have always liked to make finds, invent styles and stories through unique clothes. Accompanied by my partner Arysone, we find timeless pieces, in beautiful natural materials, branded or not, which tell stories. Each garment is carefully selected, cleaned and repaired when necessary. More than ever, we militate for a responsible fashion, which resembles our customers and which helps them to find their place in this society.
How would you define your style? What is your daily uniform?
I have a feminine masculine style, practical and comfortable with quality materials that fit all the stages of my day (children, shopping, cycling, boutique, evening). I like to have fun with clothes and make it light.
I like colors and I often make associations to create a visual picture. I like to keep a modern touch to give a sporty look to my outfits. Men's shirts that I wear with shorts, skirts, jeans, Converse or spartan shoes.
How long have you been wearing Figaret shirts?
For the past ten years or so, I've been hunting for men's clothes since I was a kid. One day I found a Figaret shirt with blue stripes in an incredible cotton that I wore for years and then my collection grew as I went along. Some extremely large ones turn into dresses during my summer vacation.